I helped a neighbor split a tractor yesterday. The clutch was bad and in order to be able to repair it, the tractor needed to be split right behind the motor. The first picture is a before shot, with the hood removed, but not much else.
You can click on the pictures for a larger view.
On this side we needed to remove the air cleaner, exhaust pipe and muffler, oil filter bracket and filter, throttle linkage, fuel shut-off linkage and a few wires. Underneath the tractor, the shields and drive shaft for the front wheels needs to be disconnected and removed.
John is just getting started figuring out what all has to be disconnected. We didn't have a book or manual so had to figure things out as we went along. The air filter is sitting on top of the fuel tank at the front of the tractor.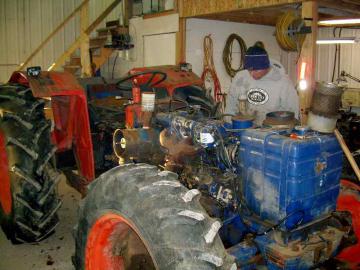 Moving on, the tractor's still in one piece with some stuff disconnected. On the left side, we needed to disconnect the steering arm, remove the starter, battery, oil cooler, and disconnect some hydraulic pipes.
Close up of where the split is going to happen. A jack is under the front half. It will be split right in the middle of the picture with back half on the left side and the motor and front half on the right side of the picture.
Now to get the hoist into position and support the back half. Then we'll be ready to remove the last few bolts and split the tractor.
The tractor is split. The back half of the tractor is hanging from the hoist. The area right above the bucket shows the shafts going into the transmission where two clutch bearing are located. One bearing for the transmission clutch and one for the PTO. (Power Take Off – that's a shaft that comes out the back of the tractor that can provide power to equipment the tractor pulls.)
The back of the tractor where the bearings have to come out of, on the left side of the picture. The motor and front of the tractor is on the right side. The clutch is on the back of the motor.
Front of the tractor. You can see the clutch on the back of it. The back of the tractor is on the right side of the picture. You can see it hanging from the chain.
The tractor after it's been split with the back half hanging from the hoist. There's room enough in the middle to easily work between the front and back parts.
The clutch parts are off of the motor. the disk on the floor under the front half needs to be replaced.