A friend has written a Great Yoga poem 🙂 It's perfect for anyone doing yoga or thinking about getting into yoga and is sure to bring a smile. 🙂 It certainly brought a smile and pleasant thoughts to me as I heard her recite it!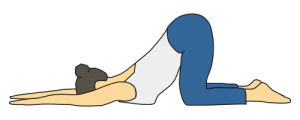 My Inner Eye
My friend is into yoga
She practices faithfully
She tells me it's done her a world of good
And it would be good for me
I resist, but she has an answer
For every excuse I know
Yoga will take me places
I never dreamed I'd go
It will open my breath, it will open my mind
It will teach my soul to fly
I'll see things I've never seen before
When I open my inner eye
And so I cave, I buy a mat
I learn a pose or two
And sure enough,
The part about my inner eye is true!
Downward Dog on the living room floor
I see popcorn under the chair
Dust bunnies under the sofa
Wads of puppy hair
So today I'm getting my exercise
With a dustpan and a broom
Seeing things I've never seen
Right here in my living room
Thank you my friend
I now include yoga in my routine
My inner eye gets a workout
And my living room is clean.
by Wendolyn Lee
She has kindly allowed me to share her yoga poetry on lots of great gifts at ->