The tractor that was split is back together and looking good!
Here are pictures from before, during, and after. You can click on a picture for a larger view: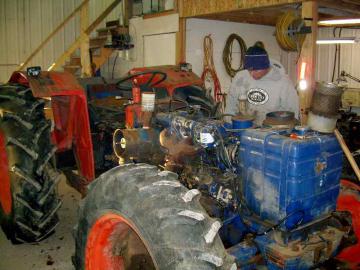 It took some time to round up parts and find a day to put the pieces back together. John and I spent about a day putting on the new parts and getting everything ready for putting the two halves back together.
Once everything was ready it only took about 20 minutes to roll the back half of the tractor up to the front half and get the bolts in. I did take video of putting the halves together. Now I'll have to learn how to edit it and post it sometime.
After getting the halves bolted together it took the rest of the morning to finish putting on more stuff and connecting up all the things that were disconnected. After lunch we got the fuel lines hooked up, connected the battery and got it started. It's always nice to hear it run again.
There were some adjustments to make plus a few more odds and ends to take care of, like put the hood back on. It was looking a lot better by the time 'Mom and kids' got home.
Kyle sits on the tractor and is ready to go while sister and mom look on. He was real happy to see the tractor all together.
Over the next couple of weeks John ordered a new seat and repainted the hood and fenders after cleaning things up and giving it a pressure wash.
Oh Boy! Doesn't the new seat, new paint, and wash job make the tractor look spiffy?